The music tradition of the Civil War continues in Gettysburg this summer.
---
The re-creation of Pickett's Charge on the Redding Farm was part of a nine-day commemorative program that ended Sunday.
---
The big battle looks different when viewed up close, says a private who wonders who foots the bill for the damage.
---
Camaraderie replaced wartime calamity and casualties during 50th anniversary re-enactment.
---

The Adams County town is jammed for the final weekend commemorating the 150th anniversary of the epic Civil War battle.
More Headlines
More Stories »
The Defense of Pittsburgh, 1863
With an unseen Confederate army possibly heading north, the Union's industrial hub prepared for attack, conducting drills and raising forts.
Deadly explosion that rocked Allegheny Arsenal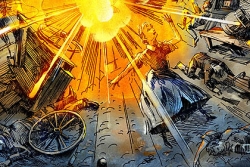 An unexplained spark ignited the city's greatest tragedy during the War Between the States. 78 civilians died that day in Lawrenceville.
More: The War Between The States
Check our continuing coverage of Civil War stories, anniversaries and local connections to the brutal struggle that forged modern America.